In a true Samaritan fashion, FTX Head Bankman – Fried has bailed out BlockFi and another Crypto firm by injecting nearly $900 million into the ecosystem. Investors are wondering whether it was a prudent idea. And if it is, Is FTT a good investment at the moment?
The crypto crash has seen crypto giants such as Celsius, BlockFi, Three Arrows Capital, and many others hanging on to the ropes. Surprisingly, all of them have been helped by other firms in the ecosystem.
Lending a $250 Million Loan to BlockFi
Sam Bankman-Fried first stepped up to the plate to help struggling crypto lender BlockFi. The crypto lending platform has gained much renown over the years for providing crypto lending and savings facilities to the consumer.
To BlockFi, the head of FTX and Almeda Capital, lend $250 million.
Announcing the event, Sam Bankman-Fried said, "Today we're injecting $250 million into BlockFi and partnering with them so that they can navigate the market with the position of strength."
Bankman-fried added that BlockFi is a financially strong platform that has been carrying out all the operations normally even during the dire straits of crypto winter.
In a Press release released on June 21, BlockFi added said that it plans to deploy the funds required for the sake of attaining long-term stability.
Lending $485 Million to Voyager Digital
Another one that SBF is attempting to rescue is Voyager Digital, a crypto broker that faced the direct impact of the Three Arrows Liquidation. It secured loans from Almeda Research, the FTX founder's trading outfit.
Voyager has taken a $485 million worth of loan, which is a mix of crypto and cash. It has received $200 million credit as a combination of USDC – the Stablecoin backed by fully reserved assets. The remaining $285 million is loaned to Voyager capital as 15000 BTC.
However, the news is that Voyager's shares have plunged since it took the loan, revealing $665 million exposure to Three Arrows capital's 15,250 BTC and $350 million worth of USDC.
Can Voyager Digital Pay those debts?
The revelation of debt exposure that caused Voyager's stock to plunge has also put to question its ability to repay the debts. On June 24, 3AC asked the crypto trading platform to repay the debt of $25 million USDC and the remaining balance by June 27, and this request has not been fulfilled.
It seems that SBF has put safeguards in place to ensure repayment. Voyager declared in the press release that it had signed an agreement with Almeda research that it cannot withdraw more than $75 million during the 30-day rolling period during which the firm's corporate debt must be not more than 25% of customers' assets.
The current situation is not good for Voyager, as it has 12 months to get additional funds to stay afloat.
What does the future hold for the FTT tokens?
While Sam Bankman-Freid's attempts to protect the ecosystem during these times are applaudable, investors might not see it that way. FTX's native token has lost nearly 33.5% of this value because of the crypto crash.
In light of this, SBF's attempt to inject approximately $900 million into the ecosystem to bail other firms out might have the opposite effect. Long-time crypto watchers are wondering whether FTX would be able to recover those loans in time.
In the meantime, the FTT – the native token of the FTX ecosystem – is showing some signs of recovery. At the time of writing, it is valued at $25.70, with a marginal decrease of 0.72% in the last 24 hours.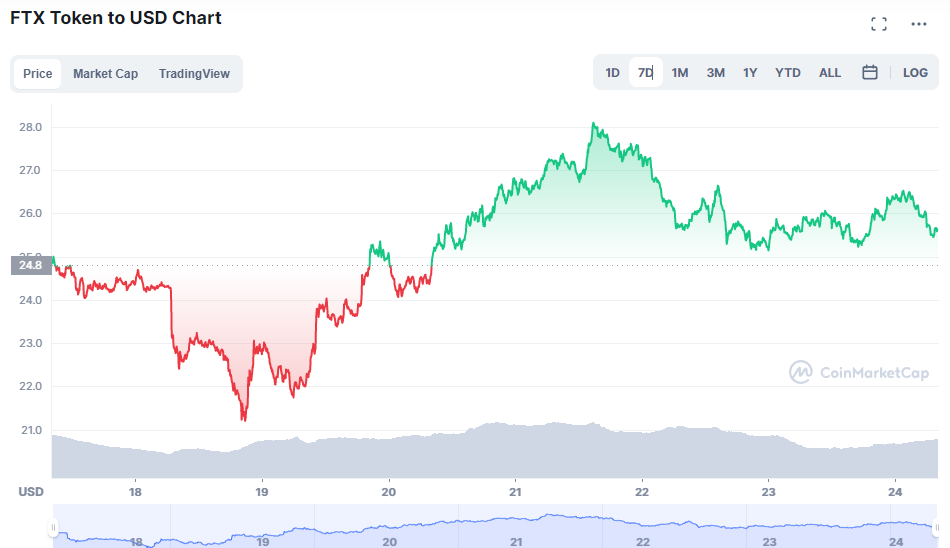 The current market trends are suggesting that the crypto crowd is ready to lend support to someone who has been trying to help others in this ecosystem. It is perhaps the main reason why the FTT token has achieved some stability during this time.
Read More
Lucky Block – Our Recommended Crypto of 2022
New Crypto Games Platform
Featured in Forbes, Nasdaq.com, Yahoo Finance
LBLOCK Token Up 1000%+ From Presale
Listed on Pancakeswap, LBank
Free Tickets to Jackpot Prize Draws for Holders
Passive Income Rewards – Play to Earn Utility
10,000 NFTs Minted in 2022 – Now on NFTLaunchpad.com
$1 Million NFT Jackpot in May 2022
Worldwide Decentralized Competitions
Cryptoassets are a highly volatile unregulated investment product. No UK or EU investor protection.