The crypto market has seen a slight recovery in the past 24 hours, rising by 2.5%. Its total cap now stands at $974 billion, representing a 5.7% jump in the past week. However, having fallen by 26.7% in the last month, there's still plenty of ground left to recover. In other words, a rally is due sooner or later, with numerous fundamentally solid coins undervalued right now. We collect the best of them in this list of 5 cryptocurrency to buy for price boom this weekend.
5 Cryptocurrency to Buy for Price Boom This Weekend
1. Lucky Block (LBLOCK)
LBLOCK is up by 7% in the past 24 hours, at $0.00107024. This means it has risen by 6.5% in the past week, but fallen by 55% in the last 30 days.
As with 99% of cryptocurrencies right now, the market-wide downturn has badly hampered LBLOCK's growth. That said, it has plenty of reasons to be optimistic.
Firstly, the Lucky Block crypto games platform began holdings its regular draws from the end of May. These guarantee a minimum prize fund of $50,000, with the first ever draw awarding $1 million to one lucky winner.
Only 2 days left until the next draw! Remember, we guarantee a minimum of $50k #jackpot! 🎰

Go and buy your tickets now at https://t.co/ZG3icHqoL0 🎟️#crypto #cryptogames #blockchain #BSC pic.twitter.com/29xTRcXH8i

— Lucky Block (@luckyblockcoin) June 22, 2022
On top of this, Lucky Block is progressing with plans to launch an Ethereum-based version of the LBLOCK token, which launched on Binance Smart Chain. Not only will this increase access to LBLOCK, but it will also enable it to secure listings on various centralised exchanges. So far, traders can buy it on either PancakeSwap or LBANK Exchange, so the addition of other exchanges will boost liquidity significantly. This is why it's one of our 5 cryptocurrency to buy for a price boom this weekend.
V2 token audit passed! ✅

That means that we're getting closer to listings on centralized exchanges! 🤩

Let the #CountdownToCEXs begin! 🥳 @SolidProof_io #crypto #audit #CEX #listings #blockchain pic.twitter.com/TZJMPdNOdZ

— Lucky Block (@luckyblockcoin) June 23, 2022
2. Polygon (MATIC)
MATIC is today's best-performing top-100 cryptocurrency. At $0.599275, it's up by 20% in 24 hours and by 56% in a week. It remains down, however, by 9% in the past month.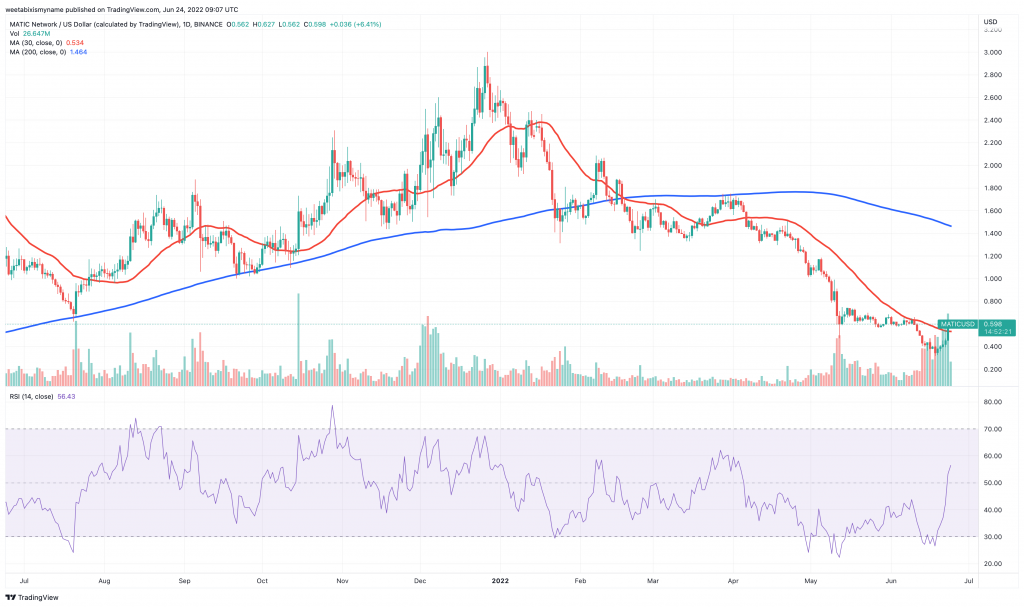 MATIC's indicators reflect its dramatic surge. Its relative strength index (in purple) has jumped from just under 30 to nearly 60 in a couple of days. Likewise, its 30-day moving average (in red) has begun the ascent towards its 200-day average (in blue). Given just how far below the 30-day currently is, MATIC could have a long way to rise.
There's one main fundamental reason for MATIC's rally today. Namely, Coinbase has selected the layer-two scaling platform as its network for sending transfers of ETH and USDC (as well as MATIC). This will see Polygon's traffic increase considerably, strengthening the bull case for MATIC.
We're making it faster, easier, and cheaper to access web3: over the next month, eligible Coinbase customers will be able to send and receive ETH, MATIC, and USDC on @0xPolygon and USDC on @solana.https://t.co/vVLnk1DTZ2 pic.twitter.com/j93F4rKd6C

— Coinbase (@coinbase) June 23, 2022
Polygon has also just launched Polygon ID, a self-sovereign digital ID solution based on zero-knowledge cryptography. Over time, this will also invite growing use of the layer-two network, enabling it to push even further ahead of its rivals.
Polygon ID is live 🔥

Today, we're announcing the launch of the first Polygon ID integration: @0xPolygonID x @0xPolygonDAO!

Polygon ID is a self-sovereign identity solution powered by ZK cryptography that brings huge potential for DAO governance.

Read on! 🧵

[1/10] pic.twitter.com/XDdBpBiHxn

— Polygon – MATIC 💚 (@0xPolygon) June 22, 2022
3. Ripple (XRP)
XRP is up by 17% in the past 24 hours. At $0.383744, it's also up by 22% in the past week, but down by 6% in the last 30 days.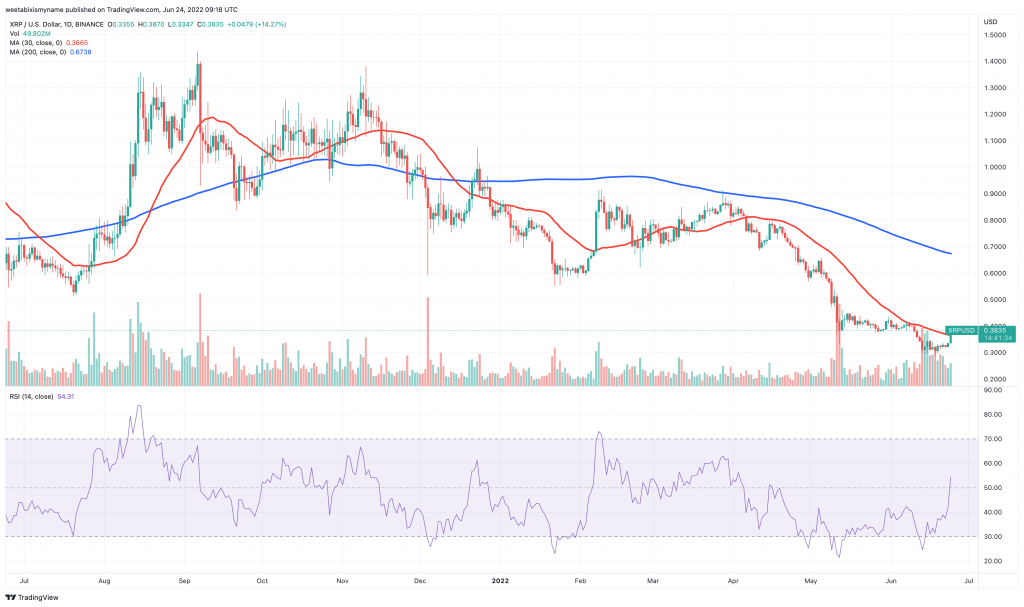 XRP's indicators also suggest a breakout rally right now. This is happening largely because of anticipation surrounding incoming decisions in Ripple's case against the SEC. The market expectation appears to be that these decisions will be favourable to Ripple.
an amicus brief on the agency's expert witness Patrick Doody. @JohnEDeaton1 tells me both decisions are imminent and could be made by the end of the week.

— Eleanor Terrett (@EleanorTerrett) June 21, 2022
Assuming the decisions are positive, they could help speed up the case's progress. As things stand, all final briefs are due by December of this year, with a final decision or settlement likely following in early 2023. However, hope is now building that the expected decisions could accelerate things. Either way, Ripple's case has been gathering in strength over the past few months, with bets now piling that it will win. This is why it's one of our 5 cryptocurrency to buy for price boom this weekend.
4. Axie Infinity (AXS)
AXS is $17.30, representing a rise of 19% in the past 24 hours. It's also up by 27% in a week, but down by 18% in a month.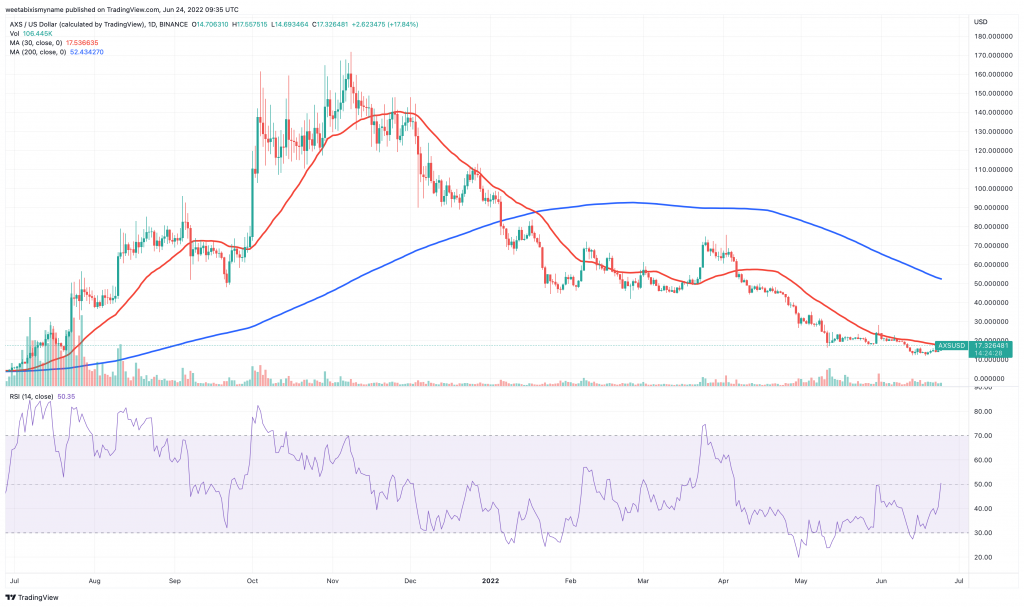 AXS' indicators are also showing renewed momentum. This has arisen for one main reason: Sky Mavis has outlined plans to reopen the Ronin bridge that was hacked in late March. It has also combined this with plans to expand and evolve its ecosystem, as well as to reimburse users affected by the hack.
Bridge being refilled on the 28th 🤝

Now it's time for @Ronin_Network and @SkyMavisHQ to expand its games portfolio

If you are a game developer who wants to build with the most experienced team in the web3 gaming space reach out to [email protected]$ron $axs https://t.co/DPkg8DUeUW

— Psycheout – Aleksander | Axie Infinity (@Psycheout86) June 24, 2022
These developments have served to instil a little faith in Axie Infinity, which had been suffering from declining user numbers since late 2021. Now, with plans to establish a creator academy and fund developers, it looks like the blockchain-based gaming platform could begin growing again.
We believe in nurturing growth amongst our community members.

Today, we're announcing 200 fully-funded fellowships for creators to participate in Nas Academy's new Creator Academy, designed specifically for Axie Infinity.

Learn more👇https://t.co/NIwg23k7GA

— Axie Infinity🦇🔊 (@AxieInfinity) June 20, 2022
5. Ethereum (ETH)
ETH is up by 5% in the past 24 hours, reaching $1,151. It has also jumped by 8% in the past week, while remaining 41% down in the last 30 days.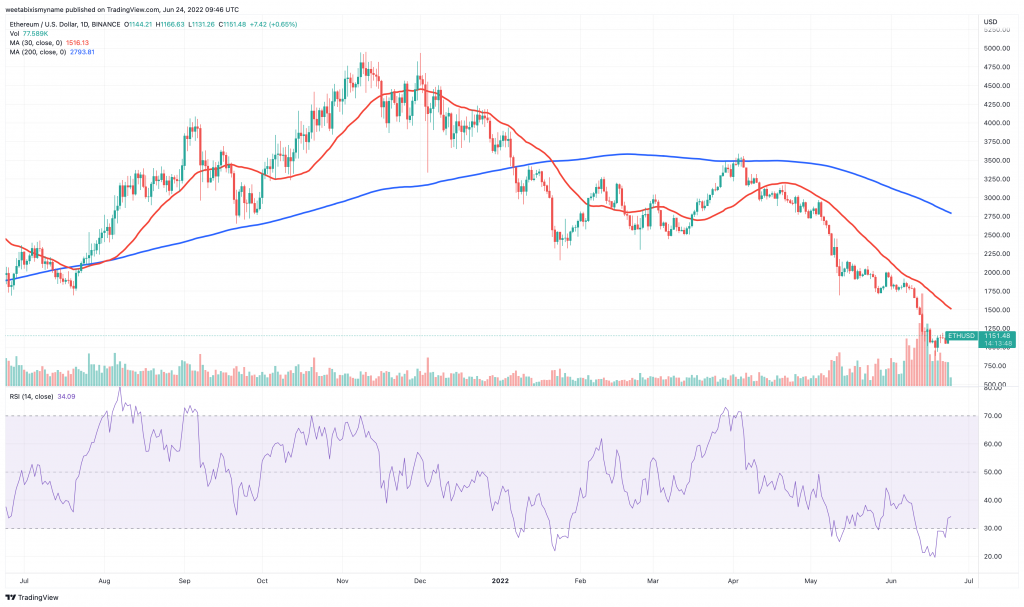 ETH has spent far too long sinking, with its RSI showing that the market has been overselling it since at least May.
ETH is arguably one of the most undervalued coins in the market right now. This is because Ethereum is in the process of shifting to a proof-of-stake consensus mechanism. This will make the layer-one blockchain less energy intensive, more scalable, and more attractive to investors.
Congratulations to the #Ethereum community on a successful Merge on the Ropsten testnet.

There is over $22.78B in value staked and ready for the upcoming main-net Merge to Proof-of-Stake.

This represents 12.8M $ETH = 10.78% of supply.

Live Chart: https://t.co/PDQg3lCJCl pic.twitter.com/GiFI3BtSKa

— glassnode (@glassnode) June 8, 2022
Due at some point in late summer, the 'Merge' will massively boost investor confidence in Ethereum. The introduction of staking will increase demand for ETH, and with 10% of ETH's supply already staked on the PoS Beacon Chain, the cryptocurrency could become deflationary. This is why it's one of our 5 cryptocurrency to buy for price boom this weekend.
11/ At the current stake amount, the Ethereum network will be paying out ~600,000 ETH per year, instead of 4,850,000 under the current PoW model, or 88% less in "sell pressure"! At the same time, stakers will still be earning ~4.6% in their staked ETH, a nice return to attract.

— eric.eth (@econoar) June 10, 2022
Your capital is at risk.
Read more: